Printed Samples Page

I'm going to start putting up pictures of jobs that I have printed with the Brother GT-541 to give you all ideas for projects you may want to undertake.

This one is hot off the presses. We made this as a special present for one of our staff members and it was such a success that we decided to offer it to the public!

NEW!!!
Leg Lamp Stocking

Printed on heavy-duty cotton fabric, this eye-catching Christmas stocking will brighten up any room! Measuring a full 14 1/2" by 16", it is guaranteed to be a real conversation piece. Buy now for next Christmas or put it up as a year round decoration. Your friends will wonder where you got such a unique item!

Price is $22.00*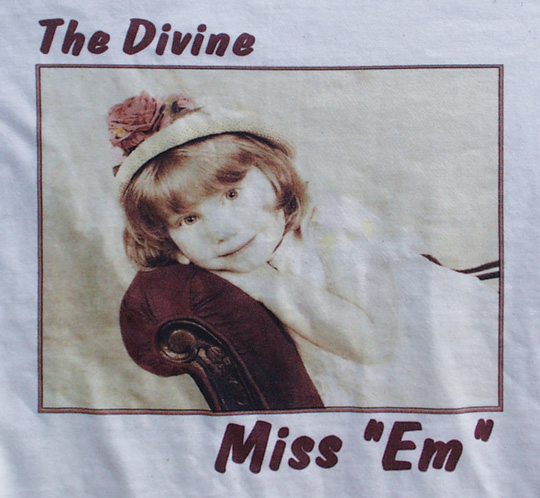 Printed on a natural color T-shirt, this photograph suggests the sepia tones of yesteryear
while maintaining some of the 4-color available today. Despite the fact that this printer does not
print a white ink, your eyes trick you into seeing it that way. I will have further examples of
printing on colored garments in the future.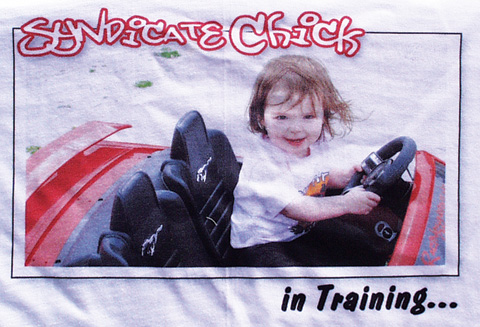 This fun image is for the daughter of a member of the
Racing Syndicate (www.racingsyndicate.net) showing her in her first Mustang.
Trying to be just like her mommy, there's is no doubt that she will be a
Syndicate Chick in the future!
This design incorporates a photograph shot by the customer and an embroidered design taken from her business cards for a large shirt front design that is sure to attract attention.

In this design, I took an old flower photograph and added a watercolor effect in Photoshop. The image was then printed on the Brother GT-541 and cut out to use as an appliqued oval.

Despite using the identical embroidered design, by swapping out the images in the applique
we have basically created two completely different designs. We could go a step farther with
this concept by changing the thread colors of the embroidery. This multimedia approach
makes use of printed objects and embroidered elements to create a distinctive image.
This is Your Brain on Art!

Express your creativity to the world with this wonderful design. Available as a T-Shirt or a Mouse Pad (below).

The design is beautifully printed in 4-color process on a Hanes Beefy-T and is sure to please!

Price is $22.00 * for sizes Small through XL.

Price is $25.00 * for an XXL shirt.
This is Your Brain
on Art Mousepad!

These are very nice large heavy-duty mouse pads,
measuring 7 3/4" by 9 1/2".

Price is $15.00 *
U.S. Only!